I'm a jazz saxophone player looking to play with groups for jam sessions and/or gigs.
I've been playing for 14 years, mostly alto sax but also play tenor, soprano and the clarinet. I have recently graduated from Sydney Conservatorium of Music, Australia with a major in Jazz Performance, and have recently moved to NY.
Have own transport.
Decent reader, willing to play as a stand-in (one-off) or become a regular member of a group.
http://www.michaeljardine.com/
Michael Jardine has performed in 15 different countries, including the US, New Zealand, China and throughout Western Europe. Michael has performed at numerous festivals, including Espoo Jazz (Finland), Le Festival International de Jazz d Antibes Juan-les-Pins (France), Umbria Jazz (Italy), Montreux Meets Brienz (Switzerland) and IAJE (USA). Read more
Learn all the songs you love from Guitar Hero and Rock Band and play them for real!
Convenient and Affordable GUITAR LESSONS
In Great Neck or at your home in Long Island
~Lessons focus mainly on Classic and Modern Rock guitar playing
~Learn everything from the Beatles and Led Zeppelin to the Red Hot Chili Peppers and Nirvana
~Facebook group with videos to practice along with
~Extra guitar available for lessons
About Me
Recently graduated from NYU with a bachelors degree in Music Composition from the Steinhardt School of Education.
NY singer and songwriter, guitar teacher at the Edgies Teen Center in Manhattan, currently has a roster of 20 students.
Contact me for further information:
516-376-9088
Armand@nyu.edu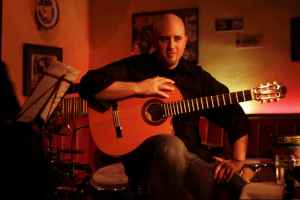 We offer:
1. Solo Guitar (sounds like the quartet!) 2. Guitar Duo 3. Guitar Duo with Percussion or Bass 4. Guitar Duo with Percussion and Bass
Please call Jason at 646-539-1390 or email him at jayhoc@gmail.com for bookings.
Please go to: http://www.rumbaflamenca.com for audio and video samples.

The Children's Orchestra Society ("COS"), a non-profit organization founded by Dr. Hiao Tsiun Ma (father of executive Director Yeou-Cheng Ma and cellist Yo-Yo Ma) for musically talented children and teens, is holding its annual auditions for new members for the 2012-2013 season the last two weeks of June at Christ Church, 1355 Northern Blvd (route 25A) in Manhasset, NY. Repertoire for the advanced orchestra will include Bernstein's Candide Overture and Dvorak's New World Symphony.
We have openings in all our ensembles: Kinder Orchestra, Sinfonia, Junior Symphonic Ensemble, Young Symphonic Ensemble and the Elite String Ensemble. We also offer Musicianship classes for children of all ages, as well as Chamber Music, Master Classes, Chorus and an instrumental Major's Program.
Our faculty hail from some of the most elite conservatories in the United States, including Juilliard, Mannes, Manhattan School of Music and the San Francisco Conservatory.
Our performances at Alice Tully Hall and Carnegie Hall have been reviewed by the New York Times, and our guest artists have included Yo-Yo Ma, Sarah Chang, Cecile Licad and Richard Stolzman.
Please visit us at www.childrensorch.org/admission or request an application by calling
(516) 869-9696. We will notify parents by e-mail or phone call of the audition results.
We look forward to meeting you and your family!
The Long Island Pennysaver has just launched its new website and is now part of the greater network of AdvertisinginNewYorkCity.com
New York City has enjoyed a trusted community partner called the Pennysaver. Each borough has many of their own, which they rely and take pride in, and the Long Island Pennysaver is proud to serve the Long Island communities! We are dedicated to quality service and providing you with the latest technology connecting online viewers with others in their community.
We are looking for those that are driven and would like to join a great company.