August 13, 2010 by Editor · Comments Off on BOARDING – No Cages/ Doggy Day Care (Long Island)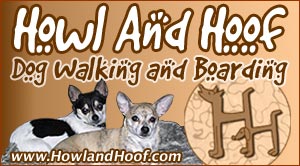 There are Plenty of Smooches for your Pampered Pooches at my house. Nice accommodations for your dog, offering a clean home, securely fenced yard, comfy couches, daily walks, and someone home 24/7. Your pet is never left alone or put in cages, unless you bring your own crate and your dog is accustomed to sleeping in one. Only 2-3 dogs are boarded at a time to assure you that your pet will receive lots of one-on-one time from my loving family.
Your dog must be well socialized, UTD with shots, house-broken, and on flea & tick preventative. Pick-up and drop-off services are available throughout the surrounding areas and beyond. Dog Walking visits are by the hour, Doggy Day Care is on a daily basis. Individual and customized services for Cats, other small animals, and home security checks, are available upon request. Reserve your dates and times early, holiday schedules fill up fast. Call for last minute availability we may be able to accommodate you.
Email me for more info or check out our website: WWW.HOWLANDHOOF.COM :o)
September 14, 2009 by admin · Comments Off on Dog Sitting / Walking (Port Jeff Station)
Dog Sitting and feedings and Dog Walking available, change cat litter.
I am a resposible person and love animals, I charge $25 per day and will come to your home 2 times a day,
early morning and late afternoon, I can bring in your mail, turn on/off lights, water plants. I am a mature adult and have lived in the area for many years.
If interested please call 631-928-4152 thank you and have a great day.
August 6, 2009 by admin · Comments Off on The Long Island Pennysaver
The Long Island Pennysaver has just launched its new website and is now part of the greater network of AdvertisinginNewYorkCity.com
New York City has enjoyed a trusted community partner called the Pennysaver. Each borough has many of their own, which they rely and take pride in, and the Long Island Pennysaver is proud to serve the Long Island communities! We are dedicated to quality service and providing you with the latest technology connecting online viewers with others in their community.
We are looking for those that are driven and would like to join a great company.