July 24, 2012 by Editor · Comments Off on Ice-T – Against Gun Control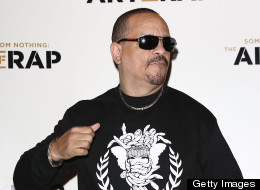 Ice-T has it right. You can not blame guns for what happened in Colorado.
Rapper and actor Ice-T has come out against increased gun control legislation in the wake of the Aurora shooting at a "Dark Knight Rises" midnight showing, arguing that the "United States is based on guns."
Ice-T was on the UK Channel 4 news last Friday, and the host, Krishnan Guru-Murthy. Krishnan Guru-Murthy was interviewing the rapper Ice-T. He's now one of the stars of Law & Order SVU. "So, do you carry guns routinely? You have a gun at home," Mr. Ice?
ICE-T: Yeah, it's legal in the United States. It's part of our Constitution. You know, the right to bear arms is because that's the last form of defense against tyranny, not to hunt. It's to protect yourself from the police. The United States is based on guns, y'know?
The rapper said that weapons are necessary to protect oneself from police. He also said he'd be glad to turn in his weapon after everyone (Government) else.
Ice's comments come in the week after 12 people were killed and another 59 were injured when a young man walked into a midnight screening of "The Dark Knight Rises" and began spraying gunfire into the crowded theater.