May 13, 2015 by Editor · Comments Off on MichAEL JARDINE – saxophonist
I'm a jazz saxophone player looking to play with groups for jam sessions and/or gigs.
I've been playing for 14 years, mostly alto sax but also play tenor, soprano and the clarinet. I have recently graduated from Sydney Conservatorium of Music, Australia with a major in Jazz Performance, and have recently moved to NY.
Have own transport.
Decent reader, willing to play as a stand-in (one-off) or become a regular member of a group.
http://www.michaeljardine.com/
Michael Jardine has performed in 15 different countries, including the US, New Zealand, China and throughout Western Europe. Michael has performed at numerous festivals, including Espoo Jazz (Finland), Le Festival International de Jazz d Antibes Juan-les-Pins (France), Umbria Jazz (Italy), Montreux Meets Brienz (Switzerland) and IAJE (USA). Read more
April 1, 2015 by Editor · Comments Off on Tattoo Artist @ AnkouTattoo.com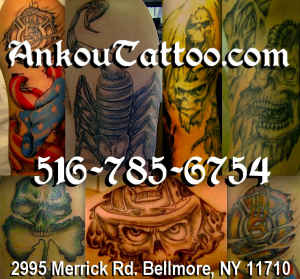 All Original Tattoo Artist:)
Portraits – Skulls – Tribal – Floral – Scenic – Patriotic – Aquatic – Radical – All Designs
Specializing in "Single Needle" Tattoo Work, Tattoo Repair, and Cover Ups
Open 10am to 10pm 7days!
Any Design You Could Imagine!!
2995 Merrick Rd.
Bellmore, NY 11710
516-785-6754
Make your Appointment by phone, and we'll send you AnkouTattoo.com Tattoo Bucks!
Save Money On Your Next Tattoo!
No Stencils-No Flash-All Original Freehand Drawn-Any Design