Electrician with over 40 years experience serving Nassau, Suffolk & Queens.
We specialize in:
Service upgrades
alterations
troubleshooting
boiler wiring
commercial & residential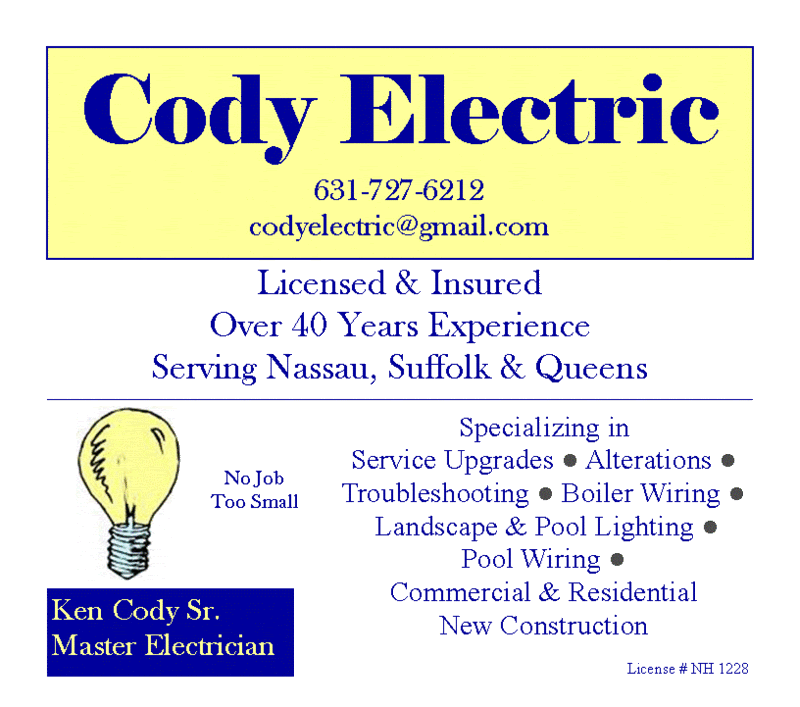 electric electrician electrical contractor light fan switch boiler wiring landscape lighting pool wiring new construction installation service upgrade commercial residential
Have you been dying to get central air but the expensive prices have kept you waiting ? Well your in luck because the fact is, cental air really doesn`t cost that much. Greedy companies charge top dollar because you`re paying for their skills, and the more they make, the less jobs they have to do in a year. Their mentality is less work, less headaches, less labor to pay out, and just as much revenue is coming in.
Here`s the difference between them and I…
I still use the same excellent manufactured parts as them, but I`m trying to build my business, so I make my money from volume, rather than a single job.
I`m willing to do things the old fashioned way. Hard work. Give me a call and I bet you`ll not only save alot of money with me, but you`ll be glad you used me.
Your happiness and satisfaction are my top priority. Call Fred 516-270-0763
Learn the latest in video editing in 1 day using Final Cut Pro from an experienced, advanced and patient teacher. Don't have FCP? Not a problem! I'll bring my equipment to you.
Rates available in six hour intervals for $200, and are non-negotiable. Will stay an additional 1-2 hours if for whatever reason you still don't feel you are comfortable with the software. This is your chance to learn the fundamentals of video editing in a single session.
Call Ryan at (516) 547-0842 or e-mail.
As I am teaching partly to subsidize my way through law school, I do ask that you value both of our time and only contact if you truly want to learn Final Cut Pro (not for a date or to beat around the bush)
Thank you for your time, and keep filming 🙂
hair salon/spa room for rent suitable for business/office-spa services,nail services-or related office business!
Reasonable and negotiable…..call (516) 739-2351 for additional info!!!!
$49.99 Sewer Service provides sewer and drain cleaning services in counties of Queens, Brooklyn, Nassau (Long Island) & Bronx in New York. We operate 24 hrs a day 7 days a week. No extra charge for nights, weekends and holidays.
We electrically unclog/snake clogged drain, main sewer, bathtub, kitchen sink, vanity sink, shower stall, toilet, urinal, tub, storm sewer, outside drains such as floor drain, yard drain, leader drain, roof drain and much more each for just $49.99. We have changed the price structure of sewer and drain cleaning industry by being the first company ever to charge $49.99 for removing clog in one sewer line or drain pipe. Our name is our price.
We also guarantee that we will beat any competitor's price.
Customer satisfaction is our top priority. We are fully insured and all jobs are guaranteed. This is the Original $49.99 sewer and drain cleaning company. Visit us at web: http://www.4999sewerman.com
Call us at 718-456-4999 or 718-456-4919